Briscoe's Dairy has been offering doorstep milk deliveries for over 60 years and we are now into our third generation of the family. Established in 1950 by the late Bernard Briscoe, the company has gone from strength to strength to become one of the areas most popular independent retail dairies.  This family firm is now run by Bernard's son Graham, and his sons Edward and Charlie Briscoe, who are committed to provide the highest level of customer service to both retail and business customers alike.
Briscoe's milkmen deliver milk and a wide range of fresh produce five mornings a week, with all deliveries being carried out using the traditional environmentally friendly electric milk float. Our customers value our reliable delivery men, excellent produce and traditional values, as well as our progressive approach to improving the service and convenience we offer.
We now provide ordering online through our website, including a next day delivery service and choice of payment options. We are also continually upgrading our service and increasing our range of produce to suit the changing needs of our customers.
Ordering online before 12 noon for next day delivery and delivery is FREE 5 days a week.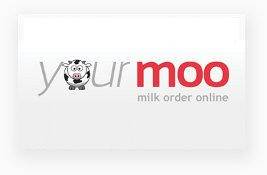 Interactive Website
As a valued customer of ours we are providing the "Your Milk Order Online" system, to allow you to...
View how your account stands at the moment and to make an online payment.
See our extensive range of Products that we can deliver fresh to your doorstep and how with just a couple of clicks you can add them to your order.
Click My Account to start MOOooing...
Call us today on 01829 740272 or email info@briscoesdairy.co.uk